Toyama
Toyama Prefecture (富山県, Toyama-ken) is a prefecture of Japan located in the Chūbu region of Honshu. Toyama Prefecture has a population of 1,044,588 (1 June 2019) and has a geographic area of 4,247.61 km2 (1,640.01 sq mi). Toyama Prefecture borders Ishikawa Prefecture to the west, Gifu Prefecture to the south, Nagano Prefecture to the east, and Niigata Prefecture to the northeast.
Toyama is the capital and largest city of Toyama Prefecture, with other major cities including Takaoka, Imizu, and Nanto. Toyama Prefecture is part of the historic Hokuriku region, and the majority of prefecture's population lives on Toyama Bay, one of the largest bays in Japan. Toyama Prefecture is the leading industrial prefecture on the Japan Sea coast and has the advantage of cheap electricity from abundant hydroelectric resources. Toyama Prefecture contains the only known glaciers in East Asia outside of Russia, first recognized in 2012, and 30% of the prefecture's area is designated as national parks.
Toyama prefecture is located at the centre of Japan and serves as a gateway of the Sea of Japan. Surrounded three sides by steep mountains and faced to the deep sea, Toyama is blessed with rich nature where people can enjoy sublime scenery and tasty foods at the same time.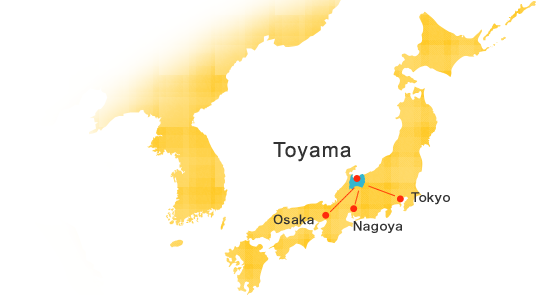 Reference: